Gregor Townsend has challenged Scotland to build on their encouraging Six Nations campaign as they bid to prime themselves for the World Cup later this year.
The Scots enjoyed their first top-three finish in the championship since 2018 after beating England, Wales and Italy and losing only to the two highest-ranked teams in the world, Ireland and France.
Townsend was pleased with the campaign as a whole, but, having given both of the top two tough tests, he feels there is still plenty of scope for growth within his team.
"We've learned a lot and we'll be a better team for this experience. We were determined to finish higher than third. There were so many positives for our supporters, but we know we can be better and we're working towards that."
Attention now turns firmly towards the World Cup in France this autumn, with Townsend and his players due to reconvene in just two-and-a-half months to begin their preparations.
Given the way they have performed in the autumn Tests and the Six Nations, there is a fresh sense of optimism among supporters that Scotland might be able to find a way out of a World Cup group that also contains Ireland and South Africa.
"We'll have some time off as coaches because the Six Nations is a fairly intense period, but we'll be quickly back into selection thoughts," Townsend said. "We've got a World Cup camp that starts at the start of June which is not too far away.
"We've got to pick a squad for that and then work towards delivering our best rugby for the World Cup, including our warm-up games.
"It will be a very tough World Cup pool with the number one and number three teams in our pool, but we're number five in the world and we know we can take on any team on our day."
One player almost certain to be in the squad for France is Blair Kinghorn, who scored a hat-trick of tries in Saturday's bonus-point 26-14 win over Italy.
The Edinburgh back, who has been used on the wing and at full-back in recent months, got the nod to start at stand-off following injury to Finn Russell and Townsend feels the 26-year-old's versatility is invaluable.
"He's put a performance in that will put him in a better position," said Townsend. "Him playing at 10 was very good for us as a team, because he's been our back-up (stand-off) this season and so for him to get minutes there will be good for the long term.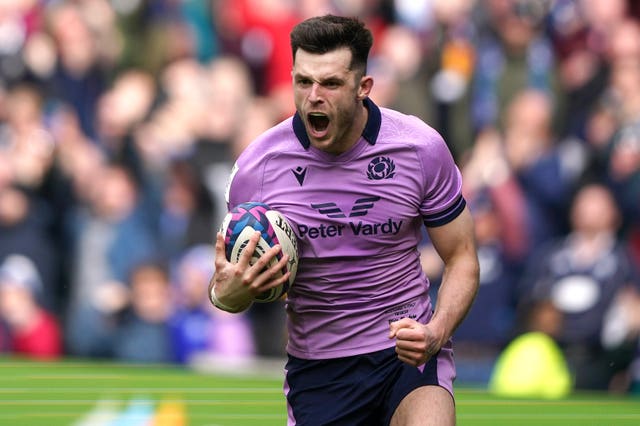 "He did play on the wing a few times for Edinburgh between December and January so we know that's a position he can also excel in.
"He'll be in the mix for all those positions and we also know he is great cover off the bench. I love the fact he took on the line on a couple of occasions. One of his biggest strengths is his running game, so for him to take on defenders close to the line and get those tries was great reward."