George Williams keen to avenge England's World Cup heartbreak with Tonga success
England were one of the favourites heading into last year's World Cup before they crashed out at the semi-final stage to Samoa.
England captain George Williams is keen to avenge their World Cup semi-final loss which "haunted" him with victory in their upcoming three-match Test series with Tonga.
England were one of the favourites heading into last year's World Cup before they were sent crashing out of the competition following a 26-27 loss to Samoa, just weeks after they previously thrashed them 60-6 in the group stage phase.
Williams gears his side up for the challenge of the Tonga series, which is due to get under way on October 22 at the Totally Wicked Stadium in St Helens.
The 28-year-old half-back admitted it took him weeks to swallow the World Cup heartbreak, but is eager to put things right with success over Tonga.
"It's the hardest I've taken a loss," Williams said. "I'm usually pretty good at switching off and moving on, but that Samoa game haunted me for a good few weeks. I know you might think that's not too long, but everyday thinking about a game is torture really when you don't get the right outcome.
"I think that's a lesson learnt for us, we were the form team at the World Cup, but the big game when it mattered we weren't where we needed to be so it's a lesson taught for us that we can't have any days off."
The visit of Tonga represents a different kind of challenge for Williams, who was named as captain for the first time in his career.
He continued: "I've got to learn and lean on other leaders, lean on (Shaun) Wane and just do my best.
"I feel I've earned it and in the last two years that I've learnt as a leader so it's like anything, you have to learn on the job. I'll get thrown some situations that I've not dealt with before and do my best to handle them.
"I've grown as a leader in the last two or three years. I think going to the NRL helped me massively, meeting new players and learning off different leaders. I'm really looking forward to the challenge and I'm really proud too."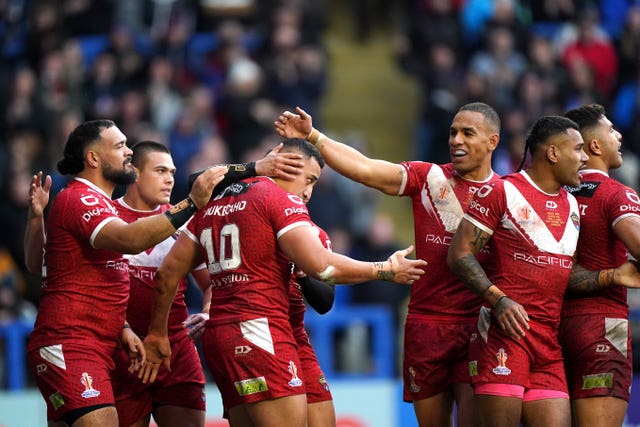 Warrington currently occupy sixth position, but are level on points with Salford, who play Hull. Williams is confident his side will be involved in the play-offs in what has been one of the most competitive seasons in recent memory.
He said: "The table does not lie. There's three teams fighting for top spot and three other fighting for a play-off spot and that's how you want it to be.
"Every game matters, every try matters with the points difference so this is the closest season I've been involved with for sure."