Martin Odegaard believes competition for places is healthy for Arsenal
David Raya replaced Aaron Ramsdale in goal to make his debut in the 1-0 victory at Goodison Park, which extended their unbeaten start to five matches.
Arsenal captain Martin Odegaard welcomes the increased competition within the squad – highlighted by manager Mikel Arteta now choosing to rotate his two goalkeepers – as he believes it will make them stronger.
David Raya, who signed on loan from Brentford and on whom the Gunners have a £27million option to buy, made his debut in the 1-0 victory at Goodison Park, which extended their unbeaten start to five matches.
It means England international Aaron Ramsdale's position as established number one is likely to be challenged over the coming weeks, but Odegaard said that principle should apply to the whole squad.
That was evident as Leandro Trossard came off the bench for the injured Gabriel Martinelli to score the only goal in the second half, but it is the position of goalkeeper which is set to remain the major talking point.
"I think it showed the depth in the squad now. We have so many quality players, the players on the bench can come on and change the game if we need it," said the Norway international.
"The competition for places is huge and I think that is a great thing for us and helps a lot.
"You see in training every day the quality we have so everyone has to be on their best every day in training and that's a good thing and will help us improve as a team as well."
"He was there supporting us, cheering for us, helping us. He is a great character and he showed a very good response today by backing his team-mates, being there and giving us energy.
"Excellent from him. We have two good goalkeepers there and it's big competition.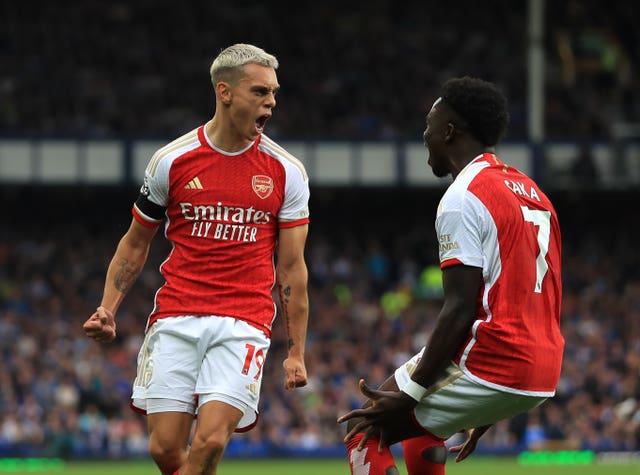 "We are lucky to have two such good goalkeepers and we will see who will play, but both of them are excellent."
Victory at Goodison Park, where they had not won in their previous five visits, was psychologically important to keep pace with the rest of their top-four rivals and the manner of the performance, having to grind out three points despite not being at their best, was pleasing for the Gunners captain.
"It was a tough one. We knew it was a tough place to come, it's been a tough place for Arsenal for a long time, but I think we did really well and deserved the win as well so very happy," he added.
"It's a tough team and they play a bit different, and we had to deal with a lot of different things.
"But we knew it would be a tough game, but were ready for it and I think we did really well on the pitch to fight and get the goal in the end so credit to the team and happy for the win."