Chris Billam-Smith confident of Lawrence Okolie win but doubts appeal of rematch
Billam-Smith claimed the WBO cruiserweight title after beating the previously undefeated Okolie in May.
Chris Billam-Smith believes broadcasters would struggle to sell a rematch against "not the most entertaining" Lawrence Okolie but insisted he would stop his rival inside 12 rounds if the pair were to meet again.
Billam-Smith won the WBO cruiserweight title after beating reigning champion Okolie by majority decision during their May showdown at Bournemouth's Vitality Stadium, taking the 33-year-old's record to 18 wins in 19 fights.
Okolie has activated the rematch clause in his contract but Billam-Smith believes the Londoner's clinch-heavy fighting style which saw him deducted two points in their first meeting may put off television companies.
Billam-Smith, who also has experienced Pole Mateusz Masternak in his sights for his first title defence, told the PA news agency: "Lawrence has activated his rematch clause so we're trying to sort that fight out, so it would be Lawrence or Mateusz Masternak next.
"It comes down to the broadcasters because they might not want to show Lawrence because he's not the most entertaining.
"It's hard for the broadcasters to sell that fight because it's an entertainment business.
"People pay their hard earned money for TV subscriptions and unfortunately he (Okolie) has not had the most entertaining fights even though the majority of the time he gets the win.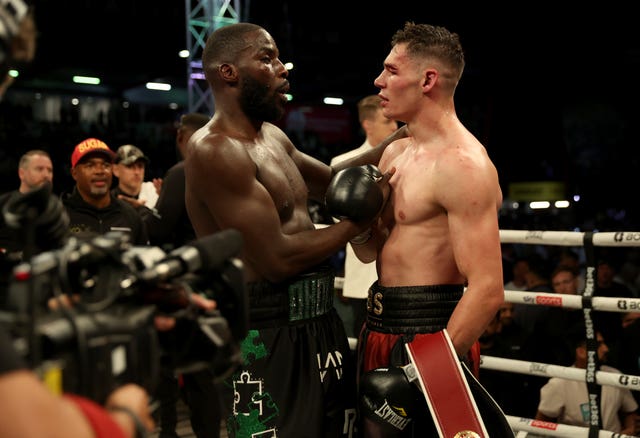 "I think I would stop him second time round. It's been well documented that I was ill on fight week and there were so many things I could of done better."
The 30-year-old Okolie, who had won all 19 of his fights before the defeat in May, used to train at Shane McGuigan's gym alongside Billam-Smith before he left to join new coach SugarHill Steward.
And Bournemouth fighter Billam-Smith credited his experience of sparring against Okolie alongside McGuigan's tactics as to why he knocked his former stablemate down three times before being crowned champion.
"We knew Lawrence would hold, we knew he'd tire and fall apart at times so it was about staying safe for the first three rounds. I knocked him down in the fourth and from then on I was very much in control of the fight. It felt like he was fighting out of himself and getting desperate to land a big shot.
"We were in the gym together for a few years and I think that gave me an edge because his other opponents haven't had to deal with him in sparring.
"My coach (Shane McGuigan) knows him very well and that was a determining factor in the fight and that massively helped me to overcome him.
"With mine and Shane's experience we can figure him out."
Asked whether the previously-undefeated Okolie had underestimated him, Billam-Smith said: "Possibly, yes, he might have done. I think he thought he was going to catch me in the 10 ounce gloves.
"He lost his way in there because he's used to hitting people and them going down so when that didn't happen he reverted back to type which is a lot of clinching and holding."
The lifelong Bournemouth fan admitted it was a dream to fight at the Vitality Stadium in front of his supporters.
He said: "It was phenomenal and fighting there one day is something I've dreamt of since I turned professional."