Ryan Reynolds says he has been delighted over the "brilliant" relationship he has built with Wrexham fans since he and Rob McElhenney took control of the club.
The Deadpool star, 46, who is co-chairman of Wrexham FC alongside fellow actor McElhenney, 45, attended his team's FA cup match against Sheffield United on Sunday.
Speaking to BBC Sport ahead of the match, pundit Gary Lineker asked Reynolds about his connection with Wrexham locals, to which he replied: "It's been brilliant. I love getting here early because I get to meet some of the locals as well, and some of the supporters who've been coming here for decades and decades.
"I met a supporter the other day whose grandfather's ashes were scattered across this (football) field, so I look at this place a bit like a church, is what it really is.
"It's really bore a special place in my heart and my entire family's heart and I think across the pond as well.
"In Canada, where I'm from, people are obsessed with this club and this community, and so are people in United States, and it's just been been pretty remarkable."
Reynolds, who attended the match at The Racecourse Ground, added: "I think we sold 24,000 jerseys this year, and so many of them went to Canada and North America, we can't get them anymore – I can't get one."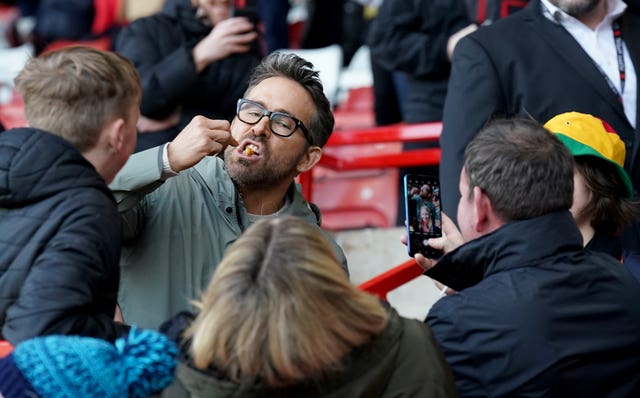 "I'm a Wrexham boy, just from three miles down the road and goodness me, everybody's just talking about these guys and the impact that they have."
Reynolds described the experience of co-owning Wrexham as "the greatest experience of my entire life", before adding "my own children and family not withstanding because I know that will come back to haunt me".
Reynolds and McElhenney took full control of the National League club from the Wrexham Supporters Trust in February 2021, investing £2 million under the terms of the deal.
The actors also explored the history and culture of Wrexham in their hit Disney+ series Welcome To Wrexham.
The Critics' Choice Award-winning show documents the team's progress, and tells the story of the club, founded in 1864, which has the world's oldest international ground.
Reynolds also revealed that he and McElhenney hope to eventually take the club into the Premier League.
"The plan is now, and has always been, the Premier League," said Reynolds.
"I can't really put a date on that. But if it's theoretically possible to go from fifth division to Premier League, why wouldn't we do it?"